Eko Backen in the News!
Reprinted with permission from the Forest Lake Times
Cliff Buchan - News Editor
Sliders come from far and wide to enjoy the hills at Eko Backen! John Fraley entering his 27th year at Scandia operation.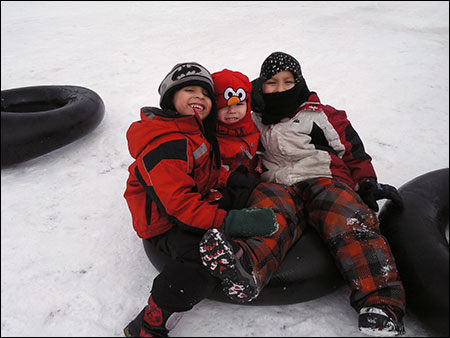 Youth know how to have fun on the tubes at
Eko Backen as these three kids display in this photo.
Think Minnesotans and Wisconsinites have the inside track to the fast and furious fun of snow tubing at Eko Backen in Scandia? Don't believe it, owner John Fraley says. While residents of the Gopher and Badger states no doubt make up the bulk of Fraley's winter customers, they don't have the corner on the snow tubing market. Far from it, Fraley says.
A map on the wall at the inner tubing operation at 22570 Manning Trail N. tells the story. The map is filled with pins from throughout the U.S. showing where Eko Backen patrons call home. "Customers are coming from far and wide to enjoy Eko Backen," Fraley said on the eve of the 2011-2012 hill sliding season. "On opening day last year we had families from Illinois, Arizona, Arkansas and Florida. They cleaned us out of hats, snowpants and gloves."
And Fraley knows it could well happen again this year. The facility was set to open in late November or early December. That's always weather dependent. As this Winter Fun edition went to press, Fraley was firing up the snow-making machines to begin coating the hills at Eko Backen. And he'd best act fast. He's already had a call from a family in Florida asking when Eko Backen would be open. They were among the visitors in 2010. They'll need boots and snowpants again this year, he said.
Winter Destination
Eko Backen has been a winter destination for well over 40 years. It's a place for individuals and families to get away for a day of fun, enjoy the great outdoors, Fraley said.
While inner tubing down the hills at Eko Backen is the main menu, there is much more to do. It's a family and group gathering destination, the owner says.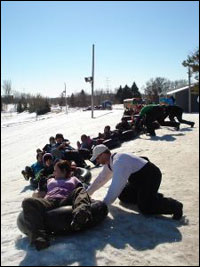 Family gatherings and party groups find Eko Backen to be a natural spot to gather for fun, Fraley said. Birthday parties, anniversaries, holiday parties and family reunions are among the group gatherings that flock to Eko Backen.
School groups have also found Eko Backen to their liking. Some high school groups from Burnsville, St. Paul Central and Highland Park and Cannon Falls have made annual trips to Eko Backen for periods ranging from eight to 15 years.
Many come for the family-style fun and atmosphere, Fraley said. A corn-fired stove provides a cozy sitting area for kids and adults to read, play cards and visit while other group members are racing pell-mell down the Eko Backen hills.
Local farmer Don Quigley provides the corn each year. "Our customers love the country-feel that we have established at Eko Backen," Fraley says.
Party groups can order from the Eko Backen concession stand menu or enjoy the homemade pizza, fresh from the kitchen. The birthday boy or girl also gets a free admission to the hills.
"We make snow! Lots of snow! Come on over and enjoy the fun," Fraley says.
"Our roomy chalet is excellent for family, company, and birthday parties. Well lit and groomed expert, intermediate, and bunny hills are perfect for all ages and abilities. Two rope tows make it almost as fast coming up as going down!. The 4000 square foot chalet offers a full kitchen, concessions, videos and pool tables."
Fraley believes Eko Backen is a boon to the area economy, both in the winter and in the summer when the facility's water park and party facilities also see brisk business.
"Eko Backen has become a regional tourist attraction," Fraley adds. "Our customers stop and eat at local restaurants, patronize area gas stations and use hotels in the area. We believe Eko Backen is bringing new visitors to our area who spend money at local businesses."
He says he is grateful for the strong local support that Eko Backen has received. He appreciates the many out-of-town patrons, but enjoys meeting old friends from this area and making new friends with folks who live in the area.
"We have been very fortunate to continue to grow our business in this tight economic times," Fraley said. "Our customers like that we are family friendly and affordable."
If You Go
Eko Backen is located a short drive from downtown Forest Lake. To reach the sliding facility, take TH-97 four miles east of US-61 to Manning Trail N. or CR-15. At Manning Trail N., turn north and go one mile. Watch for the signs. The hills of Eko Backen will be on your left.
Join the Eko Backen Facebook family to receive current information on hill condition and special events at Eko Backen.
---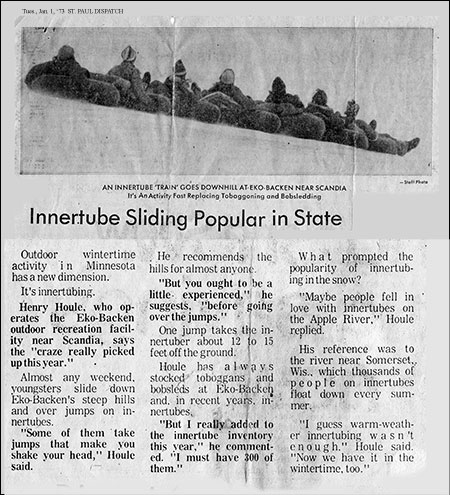 ---
(From the Pioneer Press 2008)
Scandia tubing hill to share December profits with 20 organizations
By Joe Peters
Updated: 12/05/2008 11:10:38 PM CST
The Eko Backen snow-tubing hill in Scandia will give part of its December ticket income to nonprofit organizations.
About 20 organizations - including Forest Lake Area Schools, the North St. Paul Area Hockey Association and the Good Samaritan Society - are participating.
"They're sick of selling pizzas and knocking door to door," owner John Fraley said. "This way, they can have fun and they don't have to bother anybody."
Eko Backen will donate $2 for each ticket sold. Customers can choose which organization gets their money.
Fraley got the idea after running a two-day event for two schools last year. Scandia Elementary School received $300 from the fundraiser, and Marine Elementary School received $150.
Eko Backen is 40 years old this year, and Fraley has managed the hill for 24 of those years. This year, he upgraded the artificial snow makers.
Eko Backen is open from 6:30 to 10 p.m. Fridays, 11 a.m. to 9 p.m. Saturdays and 11 a.m. to 6 p.m. Sundays. Admission is $12 for ages 13 and older and $10 for ages 4 to 12. Children younger than 4 and adult spectators get in free.
Any community organization that wants to benefit from the fundraiser can sign up at ekobacken.com.
Joe Peters can be reached at 651-228-2119
---
Networking Newsletter 12.15.08
Tom E. Benson, Editor and Publisher, Networking Newsletter
Sponsored by Eko Backen www.ekobacken.com
Eko Backen first sponsor for Networking Newsletter: To share the story of their 40th anniversary of snow tubing, and the new "fun and fund" raising you'll find there, we're proud to announce that John Fraley and staff chose Networking Newsletter sponsorship to share the news. Read all about Eko Backen in the story below....and make certain your group is signed up! You can earn money for your group yet this year...the story below explains how.
P.S. Visit www.ekobacken.com for more information and share the story below with whomever plans events! You must sign up to earn what they offer. Also with any media friends who may be looking for a fun story.
Story about our sponsor.....
Eko Backen Features "Fun and Fund Raising" on 40th Snow Tubing Anniversary Ready? Set? Go!
For four decades now, Eko Backen has offered snow tubing as a fun family activity to generations of tubers. Now, celebrating 40 years of tubing at Eko Backen, you can do "fun raising" and "fund raising" (for your favorite organization) at the same time!
Tubing is simple...just choose which hill you'd like: family, intermediate or expert, wait until path is clear and away you go. Thrills and laughs are automatic! No need to walk back up; just grab a tow rope for another fun ride UP the hill. "In this busy world there is something very special and yet so simple of sliding down a snow-covered slope that brings smiles and laughter to all ages," says John Fraley, owner. A modern snowmaking system keeps snow on the slopes all season long, bright lights extend the day, and a large rustic chalet offers a warm fire, great views and a tasty menu." Tip: Mom and Dad can also watch from the hilltop chalet at no charge .
"Who knew we could have so much fun in the cold?," says a group leader, Julie. "YOU! All your attention to helping us plan really showed. You run a terrific show, John. Thank you! "
The "fund raising" part is also simple at Eko Backen. During December, $2 for each lift ticket sold can be donated toward your community based organization. "It's very simple. The customer purchases a regular priced lift ticket and mentions your local organization, and $2 goes into an account to be released in January", says John.
In January and February, groups (group of 25 or more) can raise money for your organization by pre-registering . Each mention of your organization when registering puts a dollar per lift ticket in your account. Tip: Make certain your organization is registered.
In the summer, any family reunion, class reunion, company picnic, or church outing mentioning your organization when booking an event will be raising money for you! You may register by telephone (651-433-2422) or on-line... www.ekobacken.com/orgsignup.php.
More to know about Eko Backen...
Location: Tucked away in the hills near Scandia, MN., overlooking the beautiful St.Croix River Valley 6 miles east of Forest Lake, 11/2 miles north of hwy.97 (directions on web site ekobacken.com )
Groups are welcome (20-500), and food service is available. (Bring your own birthday cake if you'd like)
The 4000-sq -ft chalet offers a full kitchen, concessions, videos and pool tables.
Snow tubing season: 12/1/2008 to 3/15/2009
Summer offers an array of activities: Two 350-foot hydrotube slides and a pool; miniature golf; driving range; volleyball ; horseshoes; picnic area and more. Tip: Pig roasts are a specialty!
Contact information: web site ekobacken.com, call (651) 433-2422 or send e-mail to: jfraley25@frontiernet.net
Address: 22570 Manning Trail, Scandia MN 55073
Heads up: Tuesday Dec.16th from 4-8 p,m. Eko Backen will accept canned goods and offer $6 tubing tickets, says John Fraley. All food and profits will be given to area food shelves. Bring the family for a good time and for a good cause! For info, go to ekobacken.com or call 651.433.2422